Book a Logical Soul(R) Session Online
(See Menu Above)
Or Call Sedi via Phone or WhatsApp:
(01) (470) 328-3657
Search for and Check Out Our Multi-Video Training videos …for FREE

on

YouTube!
The Logical Soul® is a simple technique, usually done with a partner, that allows for self-inquiry, leading to:

Greater Mind Capacity & Awareness

Greater Peace and Happiness

More Energy & Motivation

Better Health

More Harmonious Relationships

& More Money!
Anxiety Attacks Gone!
Followup: Attacks Never Came Back
Here's what others had to say…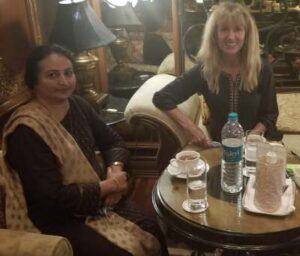 I am a 56 years old professional in the area of teaching in southern India.
I must admit that I had thought that I had reached the stage where everything was over in life for me. This is because nothing seemed to work out for me, I was confused and lost. As a result my relationships in my family and outside were in a sad state. Being a strong empath, this was very hard for me and I carried the guilt of being responsible for all that went wrong and never acknowledged myself even though my achievements. It was at this point that I met Soma.
As I had already given up I didn't really have any expectations, but I was so wonder-struck after my very first session with her. I immediately experienced a change, a feeling of being freed. And from then onward with every session I could actually see and experience the miracles happening within myself, my career and my relations. She is an amazing and powerful healer. Her spiritual healing powers are incredible. She has helped me transform my whole self in so many ways. I have never experienced the self power and sense of being free and consciously happy ever before. I sincerely thank Soma for all her efforts and healing guidance.
(Bangalore, India, November, 2020)
Geetha
This year – 2020 – has been the best year of my life . . . because I connected with my inner self, sorting a jig-saw that evaded me for years. Thank you Soma!!
(Bangalore, India, Nov., 2020)
Beate
Birgit
Dr. Kruti Vora

I am a chiropractor and tried Logical Soul® out of curiosity a few years ago. I had no expectations except to see what comes of it. Once I got myself tested by the LS process many hidden emotions kept pouring out. There was hidden access to childhood emotions I kept buried and thought I forgot.
By addressing the concern, I felt lighter after only one session. I went home happier, then had a few follow up sessions to remove any residuals and other problems that were not so obvious to resolve…. problems I chucked away because I thought there were no answers to.
I slept heavily after the sessions. It was like a body and mind reset and was able to start anew the next day. Like a new lease on life. To let go of burdens of many years overnight can cause drastic changes in life. You can hear the birds chirping. You develop a greater appreciation for all facets of life and most importantly you complain less.
As a doctor I know many causes of pain can be through the mind. The thoughts and traumas we hold onto can manifest as pain in parts of our body. I urge you, if you have not found the cause of your pain, try Logical Soul® and see how you can change how you feel today.
(Bangalore, India, June 2021)
Gaelyn
Dr. Ron Owens
Ruth
Linda
Ori Bengal
Barbara
Bernhardt
Alleen
Kelly Cole
Tommie Powers
Ronette
Dee
"Regarding my personal Logical Soul® experience: I can say that the experience has been one of the most liberating moments in my life! I have always known that my past had a major impact on me. However, I did not become aware that I was still in bondage until you uncovered the root cause of what I had coined as 'being in my own way.' My spirit has been so free from that moment on. Not only do I believe that my spirit has been set free and open to the world, it has become evident with my willingness to share with others my 'secrets' that I previously never wanted anyone to know.
"Thank you so much for liberating me as a Woman, Speaker, Writer, Teacher and Preacher. You have truly tapped into a very unique way of exposing our subconscious beliefs. I have no doubt that the Logical Soul Technique will become one of the most sought after training in the industry. Thank you again and I look forward to taking your training !"
– Dee Bulgar, (Atlanta, GA 5/2/13)
Toni
"My (Logical Soul®) session with Michael was profound and in many ways so much more than I expected . . . would best be described as therapeutic. By that I mean, after (my son) John passed 19 months ago, I had about six therapy sessions. The Hospice Therapist was new at this work, therefore inexperienced. She was a loving, compassionate young woman, but I did not find my time with her to be helpful in handling the grief. Honestly, I felt I was helping and teaching her more than she me.
"This past June, when my grieving was again accelerating (due to what would have been John's upcoming 50th birthday, I am sure), I decided to go to another therapist (Jungian). After a few sessions, realizing I was not receiving the help I needed, I stopped the sessions. My hour with you was the best therapy session I have ever experienced, few that they may have been. I have told all my Circle friends this.
"I was surprised when you found that I had not made a firm commitment to stay on this planet. I sincerely believed I had dealt with that issue successfully; one I readily admit I had after my loving son transitioned. So, I have thought a great deal about this since the session, and I acknowledge that you are correct. I simply have been better able to hide it from others. Now that it is out, so to speak, I am again working to find a place of joy so that I do wish to stay. Also, working to trust life again. Infinite love and gratitude to you both…"
– E-Mail from Toni (North Carolina, 10/22/12)
Soma